Perpetual Adoration Chapel: Just Beginning!
Adoring Jesus, Day & Night
Just before Thanksgiving we presented the Bishop our request to build a Perpetual Adoration Chapel and part of the sacristy.
This chapel will be in front of the Grotto of Our Lady, on the Northeast corner on the plan for the new church. It will be a relatively small part, but another important step, nevertheless. It will also seat 150 people (in non-Covid times) for one Mass daily, and after the church is built may also serve to accommodate overflow in those Sunday Masses when the Church might be totally filled. Its principal purpose, however, will be to provide a beautiful, quiet place where people may adore Jesus in the Blessed Sacrament exposed day or night, every day of the week, and this will not be interrupted for other Masses or services.
The Church is much more than a building. By respecting the life of the tiny unborn at the Memorial and by the consoling and healing ministry that accompanies this, we are building Christ's Church. By spending Holy Hours before the Blessed Sacrament, we will be building Christ's Church! As we grow in appreciating the value of life in the womb and in adoring Jesus, our Eucharistic Life, the support will grow to build the physical church, to serve and express this appreciation.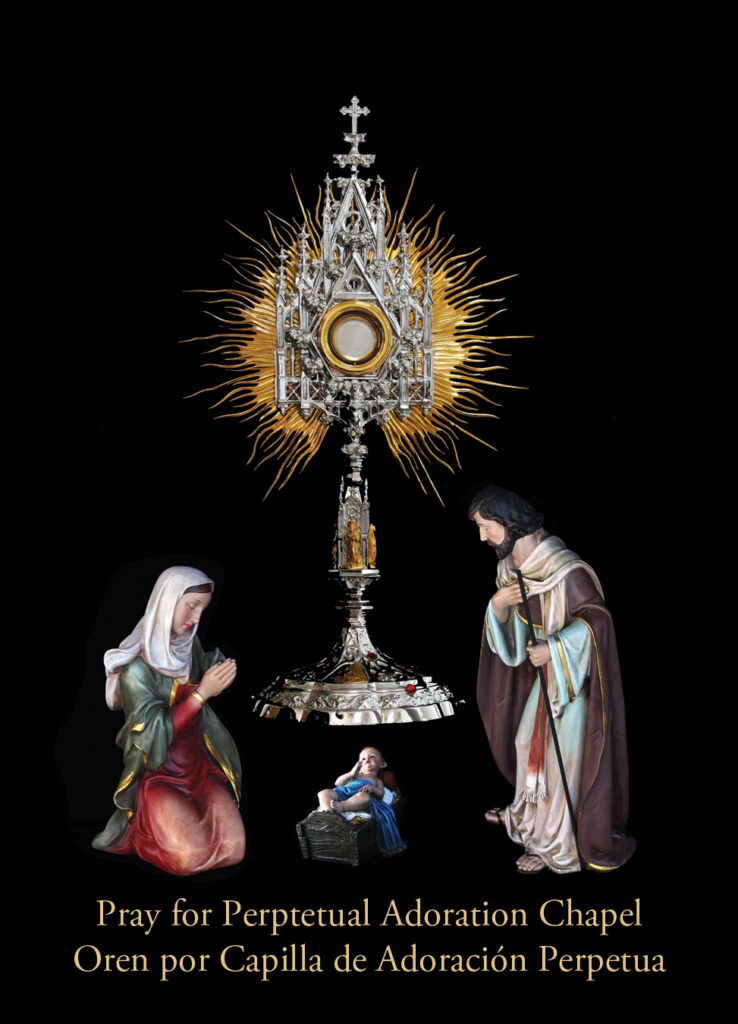 Dear Mary and Joseph, Holy Spouses, as a phase of construction for the Shrine of Our Lady of Guadalupe Copatroness of the Unborn, please guide us to prepare a Chapel for Perpetual Adoration of the Blessed Sacrament, in imitation of your first adoration of Jesus in the manger of Bethlehem. Amen.
Prayerfully consider a generous donation for the construction of the Perpetual Adoration Chapel of our Shrine.  May God reward you with abundant blessings!