Every Year: March 23rd - December 25th
Over 30 years ago a court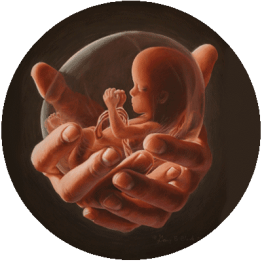 decision was rendered which legalized abortion throughout the entire nine months of pregnancy. This decision, Roe v. Wade, is the reason over 1 million abortions have been committed in the U.S. each year.
To help stop the anti-life push around the world, the late Archbishop Fulton J. Sheen encouraged the spiritual adoption of an unborn child. This is done by praying that the one particular but unknown child's life be spared abortion and be allowed to continue to live.
The Spiritual Adoption program is a 9 month activity in which people are asked to adopt a baby in danger of being aborted, name the baby and says a small prayer for that baby and his/her parents everyday starting on March 23 all the way to December 25th. This ends with the celebration of the baby shower and all the babies that were saved from abortion.
Please call the parish office for more information on how to participate.
Spiritual Adoption Prayer
"Jesus, Mary and Joseph, I love you very much. I beg you to spare the life of [baby's name] the unborn baby that I have spiritually adopted who is in danger of abortion."
– Prayer of Archbishop Fulton J. Sheen