Prayer to Our Lady of Guadalupe
O God, Father of mercies, who placed your people under the singular protection of your Son's most holy Mother, grant that all who invoke the Blessed Virgin of Guadalupe, may seek with ever more lively faith the progress of peoples in the ways of justice and of peace. Through our Lord Jesus Christ, your Son, who lives and reigns with you in the unity of the Holy Spirit, one God, for ever and ever.
Novena to Our Lady of Guadalupe
First Day: Dearest Lady of Guadalupe, fruitful Mother of holiness, teach me your ways of gentleness and strength. Hear my humble prayer offered with heartfelt confidence to beg this favor… Our Father, Hail Mary, Glory Be.
Second Day: O Mary, conceived without sin, I come to your throne of grace to share the fervent devotion of your faithful Mexican children who call to you under the glorious Aztec title of Guadalupe. Obtain for me a lively faith to do your Son's holy will always: May His will be done on earth as it is in heaven. Our Father, Hail Mary, Glory Be.
Third Day: O Mary, whose Immaculate Heart was pierced by seven swords of grief, help me to walk valiantly amid the sharp thorns strewn across my pathway. Obtain for me the strength to be a true imitator of you. This I ask you, my dear Mother. Our Father, Hail Mary, Glory Be.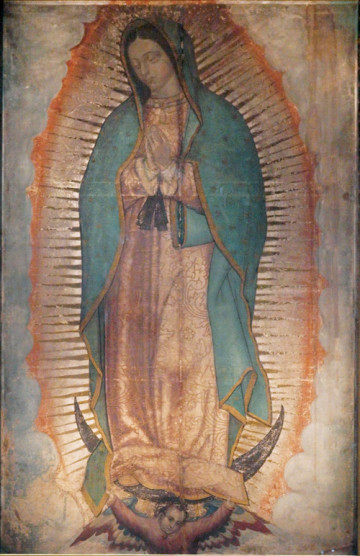 Fourth Day: Dearest Mother of Guadalupe, I beg you for a fortified will to imitate your divine Son's charity, to always seek the good of others in need. Grant me this, I humbly ask of you. Our Father, Hail Mary, Glory Be.
Fifth Day: O most holy Mother, I beg you to obtain for me pardon of all my sins, abundant graces to serve your Son more faithfully from now on, and lastly, the grace to praise Him with you forever in heaven. Our Father, Hail Mary, Glory Be.
Sixth Day: Mary, Mother of vocations, multiply priestly vocations and fill the earth with religious houses which will be light and warmth for the world, safety in stormy nights. Beg your Son to send us many priests and religious. This we ask of you, O Mother. Our Father, Hail Mary, Glory Be.
Seventh Day: O Lady of Guadalupe, we beg you that parents live a holy life and educate their children in a Christian manner; that children obey and follow the directions of their parents; that all members of the family pray and worship together. This we ask of you, O Mother. Our Father, Hail Mary, Glory Be.
Eighth Day: With my heart full of the most sincere veneration, I prostrate myself before you, O Mother, to ask you to obtain for me the grace to fulfill the duties of my state in life with faithfulness and constancy. Our Father, Hail Mary, Glory Be.
Ninth Day:  O God, You have been pleased to bestow upon us unceasing favors by having placed us under the special protection of the Most Blessed Virgin Mary. Grant us, your humble servants, who rejoice in honoring her today upon earth, the happiness of seeing her face to face in heaven. Our Father, Hail Mary, Glory Be.
Shrine of Our Lady of Guadalupe, Copatroness of the Unborn
Our Mother Mary has patiently been waiting for us to build Her Shrine: this place of serenity and compassion for the many families that have lost a child of Christ. This Shrine will not only comfort the many that are grieving and seeking solace through their faith, but it will also, be a place for the many people that are just now beginning start a family of their own. A sacred Place of comfort that will allow them to grow in God's love while knowing that Our Mother Mary and her spouse St. Joseph are interceding with their prayers every step of the way.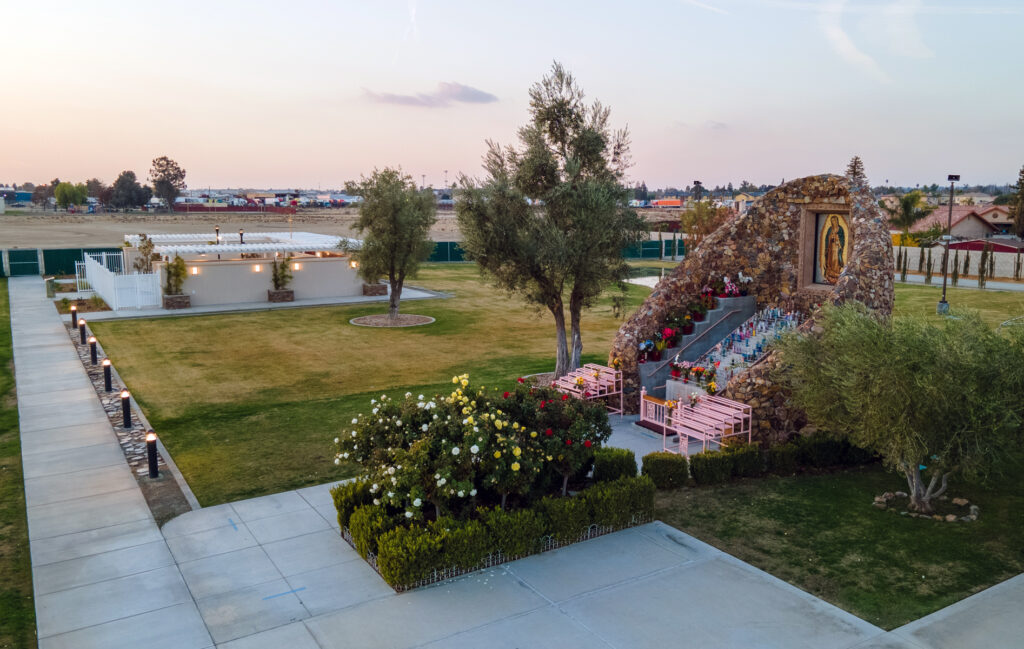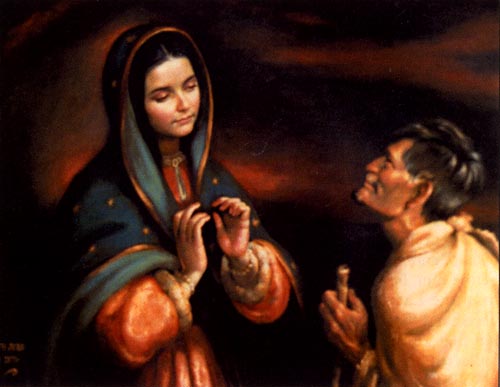 First Apparition
At dawn on December 9, 1531, Juan Diego, an Indian convert, was going to Tlatelolco to attend catechism class and hear the Mass. As he was passing Tepeyac Hill, he saw a brilliant light on the summit and heard the strains of celestial music. Filled with wonder, he stopped. Then he heard a feminine voice asking him to ascend. When he reached the top he saw the Blessed Virgin Mary standing in the midst of a glorious light, in heavenly splendor. The beauty of her youthful countenance and her look of loving kindness filled Juan Diego with unspeakable happiness as he listened to the words which she spoke to him in his native language. She told him she was the perfect and eternal Virgin Mary, Mother of the true God, and made known to him her desire that a shrine be built there where she could demonstrate her love, her compassion and her protection. "For I am your merciful Mother", she said, "to you and to all mankind who love me and trust in me and invoke my help. Therefore, go to the dwelling of the Bishop in Mexico City and say that the Virgin Mary sent you to make known to him her great desire."
Second Apparition

The Bishop was reluctant to believe Juan Diego's story. Juan returned to Tepeyac Hill where he found the Blessed Virgin waiting for him, and told her of his failure. She bade him return to the Bishop the next day and repeat her wishes.
Third Apparition

The Bishop then requested that the Lady give him a sign. Juan reported that evening and she promised to grant his petition on the following morning. But Juan was prevented from coming because of a sudden and severe illness of his uncle, Juan Bernardino.
Fourth Apparition

Two days later, on December 12, as he was going to the Church at Tlatelolco in order to bring a priest to his dying uncle, Juan Diego was stopped by the Lady, who had come down from Tepeyac Hill to meet him in the road. She listened quietly to Juan's excuse for not having kept his appointment with her the day before. When he had finished speaking she said, "It is well, littlest and dearest of my sons, but now listen to me. Do not let anything afflict you and be not afraid of illness or pain. Am I not here who am your Mother? Are you not under my shadow and protection? Are you not in the crossing of my arms? Is there anything else you need? Do not fear for your uncle for he is not going to die. Be assured… he is already well."
Having heard these words, Juan Diego rejoiced and asked for the sign he was to take to the Bishop. He was told to climb to the top of the hill where she had spoken to him on three previous occasions. She said he would find many flowers blooming there which he was to cut and bring to her. Juan Diego did as he was told though he knew no flowers had ever bloomed before on the stony summit. He discovered a marvelous garden of dew-fresh blossoms which he cut as she had asked. Placing them in his rough cloak, or tilma, he brought the flowers to the Lady who rearranged them and told him to take them to the Bishop; that this was the sign to persuade him to carry out her wishes.
When Juan Diego, radiantly happy, stood before Bishop Fray Juan de Zumarraga and told him of the fourth encounter with the Lady, he opened his tilma to show the Bishop the sign; the flowers cascaded to the floor – but to the astonishment of the Bishop and Juan Diego, there appeared upon the coarse fabric of the Indian's mantle a marvelously wrought, exquisitely colored portrait of the Blessed Virgin, just as Juan Diego had previously described her.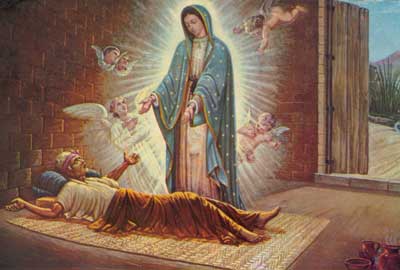 Fifth Apparition

Earlier that same day, December 12, she had also appeared to Juan's uncle, Juan Bernardino, and restored him to health as she had told Juan Diego. Juan Diego was at that time fifty-seven years old; his uncle was sixty-eight. Both had been among the first of the natives to be baptized into the true faith several years before.