Welcome to the Sacristan Ministry!
We hope you find this to be a very rewarding and meaningful ministry and enjoy making our liturgies go as smoothly as possible for our fellow parishioners. A sacristan is selected by invitation of the Pastor.
What does a sacristan do?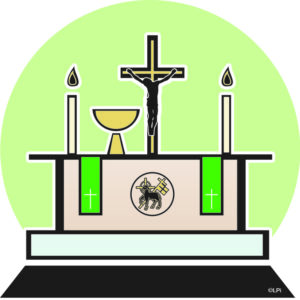 As Sacristan, we have three main roles: Security–(of the sacristy and most importantly, the Eucharist), Mass Set Up and Clean Up, and Mass Coordinator. You will serve all three roles each time you are a Sacristan. Below is a brief explanation of each role:
Security: We are responsible for assuring proper treatment of the Holy Species, namely that of the Sacred Blood and Blessed Sacrament during and after the celebration. We are also responsible for keeping the Holy Tabernacle secure.
Mass set up and clean up vary slightly depending on the individual mass and presider. At every mass, you are responsible for setting up for both Liturgy of the Word and Liturgy of the Eucharist which means preparing all the books, vessels, offertory, and incense when appropriate.
As Mass Coordinator, a sacristan also assists the presider with whatever details/duties he needs done. The sacristan will check to make sure the altar servers are ready and in place as well as making sure the assigned Readers and key Extraordinary Ministers are present and ready to serve.