In the face of death, the Church confidently proclaims that God has created each person for eternal life and that Jesus, the Son of God, by his death and resurrection, has broken the chains of sin and death that bound humanity. Christ 'achieved his task of redeeming humanity and giving perfect glory to God, principally by the paschal mystery of his blessed passion, resurrection from the dead, and glorious ascension.
At the death of a Christian, whose life of faith was begun in the waters of baptism and strengthened at the Eucharistic table, the Church intercedes on behalf of the deceased because of its confident belief that death is not the end nor does it break the bonds forged in life. The Church also ministers to the sorrowing and consoles them in the funeral rites with the comforting word of God and the sacrament of the Eucharist.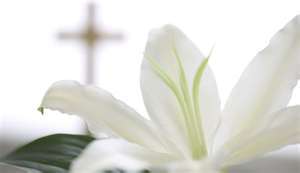 Christians celebrate the funeral rites to offer worship, praise, and thanksgiving to God for the gift of a life which has now been returned to God, the author of life and the hope of the just. The Mass, the memorial of Christ's death and resurrection, is the principal celebration of the Christian funeral.
The celebration of the Christian funeral brings hope and consolation to the living. While proclaiming the Gospel of Jesus Christ and witnessing to Christian hope in the resurrection, the funeral rites also recall to all who take part in them God's mercy and judgment and meet the human need to turn always to God in times of crisis.
The funeral home will call Our Lady of Guadalupe office to schedule. Then someone from bereavement will call the family to schedule a meeting. If you have any questions or would like more information please call: 
Bereavement Coordinator  Maria Neri (661) 832-8681